The world's largest single-panel display technology showcased to India's top CEOs
We were delighted to recently welcome 15 delegates from the All India Management Association (AIMA), a nonprofit organization working closely with industry, government, academia, and students to further the cause of the management profession in India.
Along with Motherson Group, our Prysm Systems team hosted the delegation of C-level executives on Monday, October 2. Representing some of the most prestigious companies in India, the group was treated to a live demonstration of our 225" single-panel large format display, which is the largest of its kind in the world. Leading the demo was Amit Jain, our co-founder and CEO; with support from Prysm SVP Software Solutions & CIO, Sreeni Garlapati; Ganesh Kumar, our Senior Sales Director, India; and Motherson's Head of Americas Region, Sukant Gupta.
"This was an extraordinary opportunity to engage with some of India's top business leaders," said Jain. "It not only allowed us to showcase the benefits of our immersive and interactive technology, but also our new partnership with Motherson, a global manufacturing conglomerate founded in India nearly 50 years ago."

The delegation was led by Sunil Kant Munjal, Chairman, AIMA International and Chairman, Hero Enterprise; co-led by Nikhil Sawhney, President, AIMA and Vice Chairman and Managing Director, Triveni Turbines Ltd.; and organized by Rekha Sethi, Director General of AIMA. It was part of their annual program to host leading Indian CEOs in hot spots of innovation around the world, with this one coming to the iconic hub of global tech, Silicon Valley.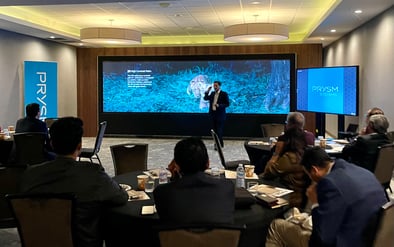 "The objective of the visit was to expose our AIMA leaders to groundbreaking technology and innovation, while opening minds to what the world could look like in the future," said Sethi. "Prysm's displays certainly impressed the delegation, as it was clear that the technology has the ability to transform collaboration and human interaction, and to do so at scale in so many different use cases."
In addition to visiting Prysm, the delegation also met with other leaders of technology, including Google, NASA, Stanford Medical School, X the Moonshot Factory, Bloom Energy and more.
"Needless to say, we were in very good company and honored that AIMA included Prysm Systems in their visit to Silicon Valley," said Jain. "The conversations we had were very positive and I enjoyed their continuation later in the week at the US-India Conference that was held at the Silicon Valley campus of UC Santa Cruz."

The Conference, now in its sixth year, was also organized by AIMA. Its mission is to highlight the bilateral and global opportunities available to the two countries and explore areas of mutual co-operation in the new world order.

In all, it was a productive week of engaging with important contacts in India, which continues to be one of the most important markets for Prysm Systems.