Prysm Systems appoints Tod Hardin, award-winning filmmaker and esteemed marketing professional, as director of marketing operations to strengthen the company's position in the audiovisual industry
Milpitas, Calif. (October 25, 2023) — Prysm Systems Inc., a leading provider of large-format laser phosphor displays (LPD) that create unrivaled immersion and engagement, has appointed Tod Hardin as Director of Marketing Operations. In this role, Hardin will strengthen, align and broaden the company's global marketing and sales operations.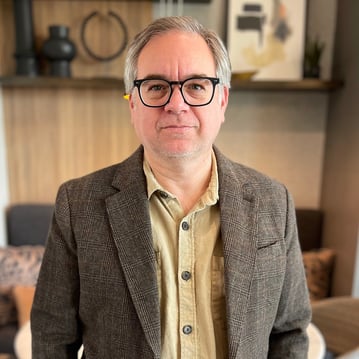 Hardin rejoins Prysm Systems as the Director of Marketing Operations, although he previously served as the company's Global Events Marketing Director for over six years. During his time at Prysm Systems, Hardin was instrumental in implementing a multi-channel plan to launch Prysm Systems' all-new laser phosphor displays. Hardin brings a wealth of success in social media marketing, communications, event management, creative direction, brand development and media relations. With nearly 30 years of experience, Hardin has worked with many diverse, well-known brands, including Plastic Oceans International, Crowd, Penn National Gaming, Mandalay Bay Resorts, Visit Napa Valley and the California North Coast Tourism Council. In addition to his role at Prysm Systems, Hardin was the founder and chief storyteller for Scout Monkeys Media, a marketing and communications consultancy, and serves as a board member for the Social Forestry Foundation. Hardin holds a Bachelor's in Political Science and International Studies from Wayne State University.
"We are focused on building strategic global marketing and sales operations to strengthen our position in the audiovisual industry," said Amit Jain, president and chief executive officer for Prysm Systems. "We are thrilled to re-introduce Tod to our team. He brings a breadth of knowledge and experience in digital marketing, advertising, communications and brand management. He will be instrumental to our marketing and sales teams and in accelerating our global marketing operations to reach systems integrators, dealers and distributors, and end users."
Hardin states, "I'm excited to reunite with Prysm Systems and return to the audiovisual industry. I thoroughly enjoyed working with the team to introduce their high-quality, dynamic visual displays and collaboration platform. Over the last few years, the industry has dramatically shifted with a new emphasis on collaboration and connectivity. As we usher in a new era for the audiovisual industry, I'm energized to share Prysm Systems unique story as a product and a platform to fuel high-impact presentations for various collaboration environments."
Prysm Systems continues to transform the large-format display industry with the world's largest single-panel displays, while providing low power consumption and scalability. As displays become larger, Prysm Systems has streamlined large-format video displays while providing a high-quality, impact-resistant surface. Prysm Systems allows presenters to step away from standard flat meetings and singular presentations by gathering various content platforms and applications into one display. Users can simultaneously share presentations, connect with outside team members through video conferencing, watch a video or share other content. It creates a custom-designed experience that enables individuals to experience the complete picture as they dig into complex issues.
For more information on Prysm Systems, please visit prysmsystems.com. Keep up with the latest news from Prysm Systems on LinkedIn, Twitter and Facebook.
###
About Prysm Systems Inc.
Prysm Systems Inc. is committed to developing and promoting large-format display solutions using its proprietary Laser Phosphor Display (LPD) technology. Prysm Systems has been delivering highly immersive and engaging customer experiences to some of the world's leading organizations for over 12 years. Prysm Systems' solutions combine industry-leading display technology and software that work together seamlessly to level up the traditional uninspiring presentation experience in the room. With a shared visualization canvas that promotes interactivity, the in-room experience effortlessly extends to engage remote participants.
As businesses continue to adapt and envision the best practices for moving the workplace forward, a complete solution that addresses both in-person and remote engagement is essential. Prysm Systems Inc. continues to lead the industry in hybrid-engagement solutions. Prysm Systems invented LPD technology in 2005, and it has been commercially available and globally deployed for over a decade. In addition to its global headquarters in California's Silicon Valley, Prysm Systems has a worldwide presence. Learn more at prysmsystems.com.
Photo Credit: Ruth Fuentes Sansores
Press Contact:
Morgan Lawrence, APR, Director of Communications
THE rAVe Agency
Mobile: (419) 631-8052
Email: morgan@theraveagency.com