I admit it. I'm addicted to pens and paper. I have specific pens that I use for lists, others that I use for sketching, some for work, some for personal use, some that I keep in my bag, and so on. I know what you're thinking: yes, I work for a tech company! But I love the feel of pen on paper. The colors help me stay organized. And I'm just a highly visual person. What can I say? It's my thing.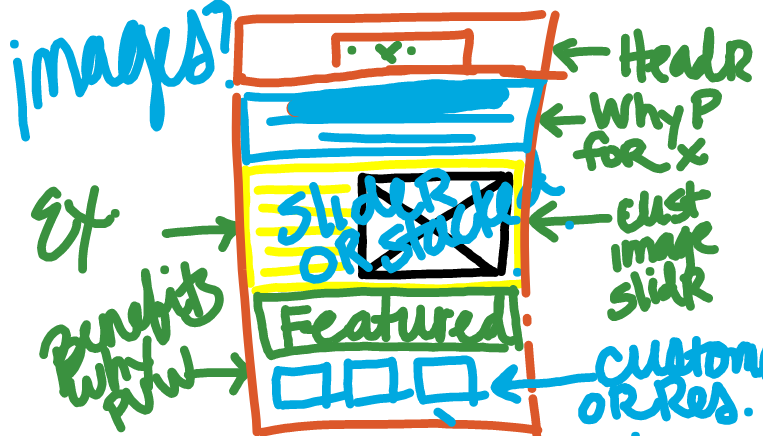 For all of the above reasons, I'm an incessant user of Prysm's virtual whiteboards.
Because I manage Prysm's website, I'm constantly brainstorming user flows, storyboarding, and coming up with page designs. I need to share these with my team, with our CMO, and with agencies. Sometimes I sketch alone, but I'm often doing it during a group meeting. Digital whiteboard to the rescue.
If you haven't yet discovered the beauty of our virtual whiteboards, here's what there is to love:
You don't have to worry about anyone erasing it. You can have as many whiteboards as you want, and you don't have to write "DO NOT ERASE" in capital letters inside the conference room. They stay protected inside your cloud-based workspaces.
You have unlimited space. The major advantage over pen and paper — you never get to the end of your notepad.
You can change the color and thickness of the pen. Variety and contrast are important, and there's only so much space for pens inside your desk or your bag. I love this feature.
It's easy to share. Unlike my pen-and-paper scratching, I can snapshot my sketches and email them to whoever needs them, directly from the whiteboard interface.
You get one-touch access from the QuickStart menu. When you walk into a Prysm-powered conference room, you don't even have to log in to use the virtual whiteboard. "Sketch" is the first menu item. Just tap and get started. Perfect for those spontaneous huddles.
It's secure. A lot of what I do is confidential, so it's important to keep my drawings safe. (Remember that time an Apple employee left an iPhone prototype in a bar? Uh-oh.) Prysm's whiteboard is encrypted, stored in Microsoft Azure's secure cloud, and password protected. And you can give view (vs. edit) rights to whomever you designate. Done and done.
It works from any device. I can start a brainstorming session in my office, continue in the conference room, and work on it again from home, on my phone. Every time I enter the workspace to pull it up, everything is exactly as I left it.
It plays well with others. I work with several remote team members. They can log into my workspace during a meeting and watch me drawing on the whiteboard in real-time. And if they want to contribute something to the drawing or storyboard (and if I give them permissions) they can — also in real-time. Definitely not possible with the analog version.
If you're not yet convinced of the utility and elegance of the Prysm whiteboard, try it out for yourself, and let me know what you think in the comments below.