Prysm Proves to be a Precious Find for a Major Gold Corporation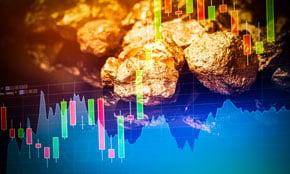 Despite being able to trace its origins back for thousands of years, the profession of gold mining is still evolving. The prospect of huge windfalls, dwindling supplies and fierce competition have driven miners to continually pursue more efficient ways of getting the highly coveted metal out of the ground.
Already renowned for its innovation and creativity, one of the world's largest gold mining companies recently launched a digital reinvention of its entire operation.
With mining projects around the globe, it quickly became evident that creating a foundation that elevated teamwork, communication and collaboration would be critical components in achieving the company's goals.
Improving Team Decision-Making
The determination of a gold deposit's quality, magnitude and accessibility is a very complex task, involving many highly skilled professionals. Accurate real-time interpretation is needed to establish how actions impact health and safety, the environment, production, and cost of mining operations around the world. To empower its global team – and facilitate the addition of sophisticated modeling tools for detailed scenario planning and portfolio management – the company began its search for an enhanced workplace solution.
While many offerings accommodated elements of the functionality the company desired, only the Prysm digital workplace solution impressed the executives with its collaboration features and ability to integrate into the company's prevailing Cisco video tele-conference (VTC) architecture.
Initially, six Prysm 85-inch displays, one 98-inch screen and 200 user licenses were implemented across the company's corporate and mining locations; instantly giving its teams the ability to communicate more effectively. The staff transitioned easily, quickly engaging in real-time collaboration and rapidly arriving at policymaking decisions. As anticipated, the Prysm solution assimilated well with the existing Cisco TelePresence equipment.
Continuity of Conversations
The Prysm experience engages team members, helping them to visualize datasets, graphs, videos, and review web pages simultaneously on the interactive displays: In turn, encouraging dynamic discussions and accelerating decision making.
Daily reviews of mining operations between teams spread across north and south America are conducted via Prysm digital workplaces.
With information stored in the cloud-based Prysm workplaces, the worldwide staff can review data and add materials to the work area from any location. This provides continuity and persistence of context from meeting to meeting to ensure all participants are unified by the evidence and able to act more swiftly in coming to an agreement or deciding on a set of actions.
Impressed with the positive impact of the Prysm solutions on its workplace, the corporation acquired an additional 125 software licenses within first four months of the initial deployment.