A Leading Entertainment Corporation Relies on Prysm to Help Realize Customers' Dreams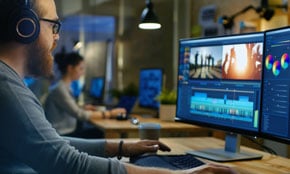 A major multinational mass media and entertainment conglomerate – focused on developing the most innovative entertainment-based experiences and products in the world – sought a solution to create a unified interface to drive improved internal communication, collaboration, and decision-making.
Supporting Globally Dispersed Teams
With its employees dispersed throughout the world, the company wanted a software solution that would elevate collaboration through a single, easy-to-use interface. It needed multinational teams to be able to engage in a cooperative manner that would ultimately drive faster decision-making and create better products.
The Prysm digital workplace platform attracted the corporation's attention because of its ability to provide a unified experience that allows employees to access communication tools, content, and other data sources within a unified interface. Prysm creates a flexible work environment that enables globally dispersed teams to interact in real-time and work together as if they are in the same physical room. The open platform permits easy integration; seamlessly integrating with other workplace solutions and minimizing adoption time.
Selecting the Prysm digital workplace platform for its innovative headquarters' meeting rooms, the choice uniquely aligned with corporation's mission to become the world's leading producer and provider of entertainment and information.
Teams use the Prysm digital canvases to share information on a user-friendly screen; the 190 inch, touch-enabled displays facilitate communication and collaboration by showing data, online resources and files together in an engaging and interactive way. These advantages are leveraged every day, from holding meetings with worldwide team members and allowing them to participate in key decision-making sessions, to providing a common interface to assist in the collaborative creation of new animations.
Creating an Interactive Collaboration Experience
Open communication throughout the company is especially important in the pre-production stage of filmmaking. With location scouting at the heart of a successful production, scriptwriters, producers, and directors must agree on an almost infinite number of details.
There are many moving parts to the process that require collective input from numerous stakeholders. Whether it be a location change in a script, utilizing local resources, or compiling promotional content (like commercials, photography, etc.), the Prysm digital workplace platform dissolves the distances between colleagues and enhances alignment.
The Prysm workplaces serve as the corporation's core collaboration platform; bringing together live videos, images, local information, legal documents, and other data for decision-makers that are part of multinational content generation teams around the world.
Inspired by the positive effect Prysm has had on the open collaboration spaces at headquarters, the company plans to deploy the solution across all its locations to further leverage the efficiency gains its experienced to date.