Four Large Pharmaceutical Companies Incite Digital Revolution with Prysm
Pharmaceutical companies are working hard to stay in lock-step with the technological revolution occurring in the healthcare industry. Executives seek game-changing solutions with the disruptive potential of digital initiatives. To streamline processes around decision-making and strengthen collaboration within the workplace, four market-leading pharmaceutical companies have invested in the Prysm digital workplace platform as a catalyst for an exciting new digital paradigm.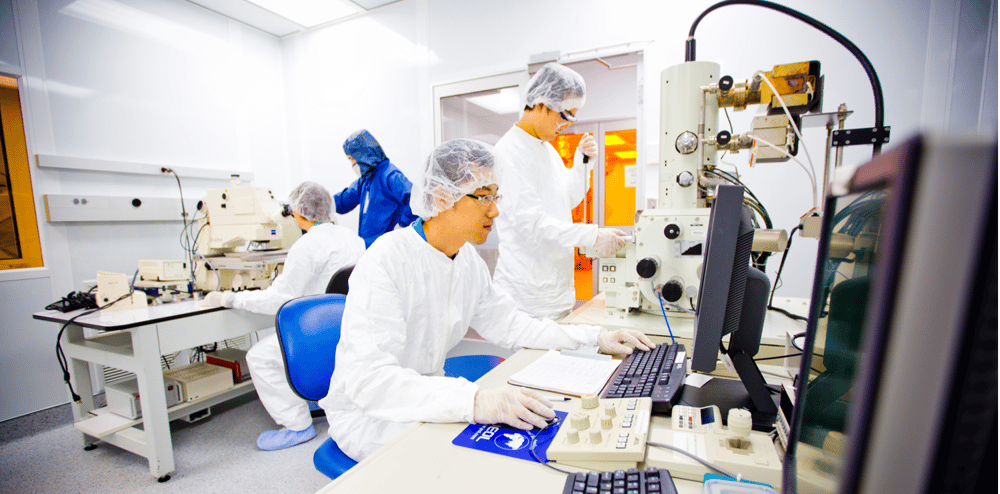 Streamline and Automate Work
To thrive, pharmaceutical companies aim to optimize and automate workflows, gain real-time transparency on product development progress, costs, and business value. Areas such as employee on-boarding, sales and operations planning, launch monitoring, and marketing-content development benefit from automation and transparency. With Prysm, large pharmaceutical companies are now able to facilitate collaboration between multiple departments, enhancing communication and reducing the time-to-market for their products and services.
By breaking down company silos, Prysm's visual collaboration software encourages high-level team collaboration, resulting in more productive meetings and faster decision-making. Unique features like touch-sensitive screens and live-source streaming inspire visual and tactile learners to communicate with their peers; optimizing communication and the creation of dynamic content.
Collaboration and Momentum
With Prysm, executives and their teams can work together to prepare and present meeting content, then preserve the resulting outcomes for future sessions. The cloud software enables multiple contributors and reviewers to access Prysm workspaces from anywhere, on any device, to add content and annotate. Up to 15 remote locations can contribute to any given meeting – decreasing staff travel costs – and participants can interact with the display and screen-capture the contents in real-time.
Prysm's all-in-one digital canvas can simultaneously display a myriad of content – from multiple video feeds, to live applications, to audio to Microsoft Office files – enabling information to be displayed and manipulated within a single interface. After a meeting concludes, workspace content is preserved in the cloud, enabling momentum to be maintained from one session to the next. Content-rich projects and presentations can be accessed and progressed from any device, eliminating time previously spent in reviewing long email threads and version control issues; leading to faster, more impactful outcomes.
One company's Market Research Department – which was tasked with identifying more interactive and engaging ways to build out 'patient journeys' – leverages the Prysm platform. Seen as a critical step in elevating the impact of the company's products on solving patients' problems, the department sought to capture a broader set of information and facilitate the easy manipulation of knowledge between coworkers. The Prysm platform enables meeting participants to join or lead meetings from any device, with everyone viewing the same content and updates simultaneously.
Actionable Insights from Data
In addition to facilitating dynamic presentations that engage employees and increase collaboration, the features of the Prysm visual collaboration solution enable pharmaceutical companies to gain enhanced awareness of how their drugs are making a difference in patients' lives. Whether in-person or online, employees can review data during a presentation, simultaneously integrating dynamic content to augment communications and generating impactful, actionable insights. Data also can be adjusted or reviewed during meetings without interrupting the discussion flow, driving efficiency and responsiveness.
One Global Logistics team has created large dashboards that include a live data stream, taking advantage of being able to annotate and capture snapshots of diverse data visualizations. By utilizing Prysm, the Logistics department can extract and interact with multiple data sources in combination with real-time shipping and logistics information. The team has leveraged the Prysm solution to track the progress of shipments; supporting supply chain optimization and enhanced operational efficiency.
Presentations to Conversations
Implementation of the Prysm solution within these pharmaceutical companies has driven a step change improvement in the efficiency, responsiveness, and agility of cross-functional processes. Use of Prysm visual collaboration software has increased collaboration by keeping employees engaged during presentations and meetings. This new digital collaboration space enhances forward momentum, preserving content and streamlining decision-making.
The interoperability of the live Prysm workplace is an essential component; for example, a team can brainstorm at 9am, do a sticky-note mapping session at 10am, and be reviewing the resulting output prior to release at 11am, using the same workspace from anywhere around the globe.
For these companies, Prysm has become a hallmark of a truly disruptive technology that is revolutionizing the day-to-day workflows, and with this success, they look forward to improved innovation, faster time to market and elevated patient outcomes.