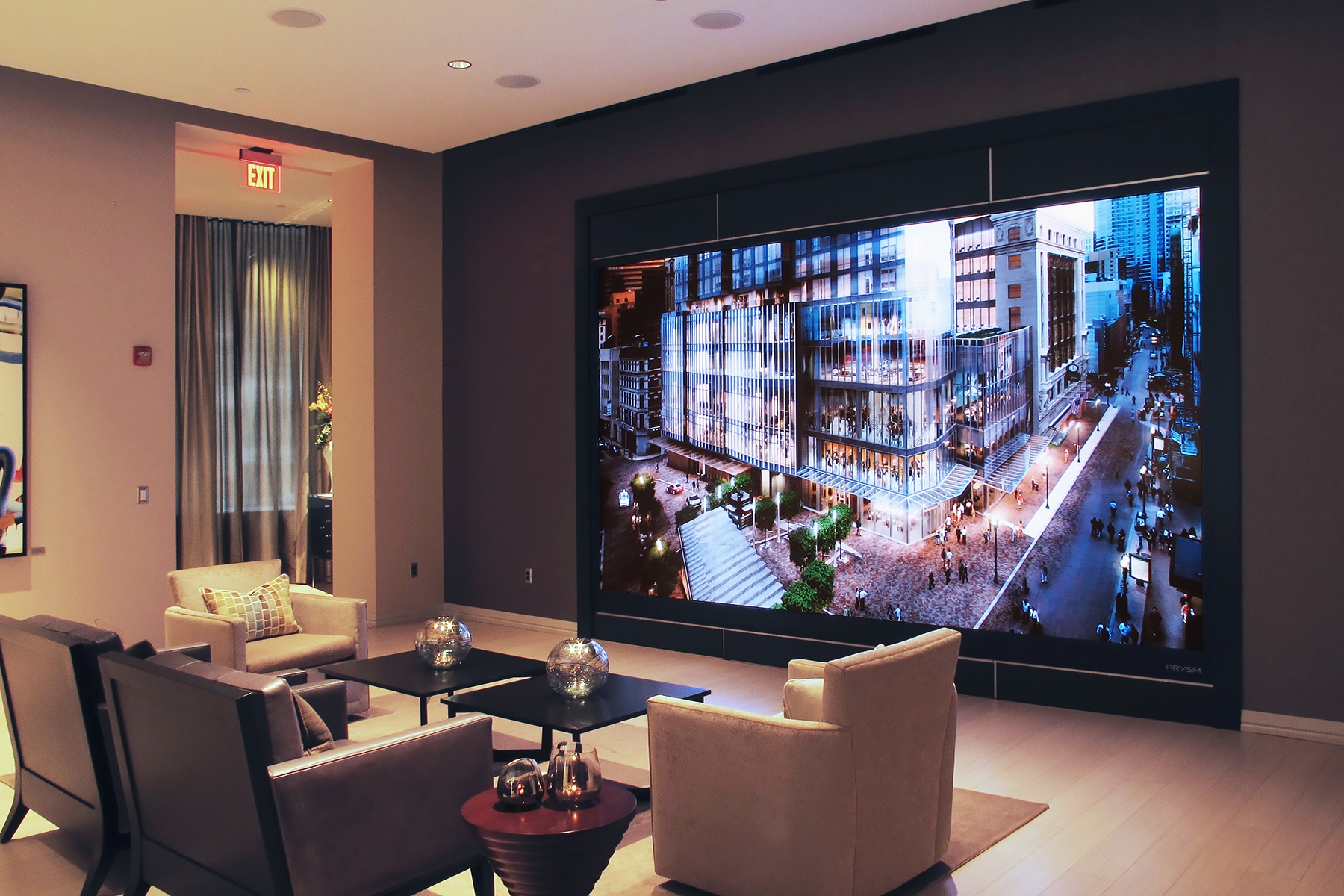 Olympic Video Wall Showcases the Ultimate in Urban Luxury Living
San Jose, CA | May 12, 2015
Prysm, Inc., a privately held designer and manufacturer of total display solutions that deliver immersive and engaging user experiences, today announced the installation of a Prysm Olympic video wall at Millennium Tower Boston. Millennium Tower Boston, designed by Blake Middleton of Handel Architects, is the tallest residential development in downtown Boston, featuring ultra-luxurious condominiums with every amenity imaginable.
At the innovative Millennium Tower Boston sales center, an Olympic video wall introduces prospective buyers to the Millennium lifestyle. The Olympic video wall delivers an impressive 13ft wide by 8ft high 4K UHD digital canvas designed specifically for the space at 40 Franklin St. The 104 sq ft digital display tells the story of this remarkable new building and takes buyers on a virtual tour of their residence with interactive floor plans and 360-degree skyline views from the selected condominium. This unique experience has helped Millennium Partners reach a milestone of $650 million in sales for Millennium Tower Boston in only four months.
Dean Sawatzky of Lightroom, the designer for the sales center, said "following a detailed evaluation process, Prysm's solutions were selected over other display technologies for their innovative product engineering, unrivaled image quality, low-power consumption and interactivity capabilities. Prysm's Olympic video wall is a great match for the groundbreaking design philosophy embodied by Millennium Tower Boston."
Richard Baumert, partner at Millennium Partners explains, "as Millennium Tower Boston takes shape in vibrant downtown, it is gratifying to have a sales center with state-of-the-art technology that helps buyers visualize the unrivaled beauty of their new home. With the Prysm Olympic video wall, we are able to create an immersive and engaging experience that vividly showcases the pinnacle of urban luxury living we offer."
Olympic video walls allow architects, designers, and brand managers to create and customize unique, immersive experiences that make an impact. They offer an unmatched combination of breathtaking beauty, unprecedented scalability and best-in-class energy efficiency. Prysm also offers unrivalled collaboration capabilities with its Cascade video wall and display solutions available in standard sizes from 190" to 65" diagonal.
About Prysm, Inc.
Prysm is a Silicon Valley-headquartered company delivering total display solutions that create unrivaled immersion and engagement. Combining groundbreaking hardware, software and services, Prysm is revolutionizing the world of large-scale displays. Prysm's Laser Phosphor Display (LPD) platform is a key foundational technology that makes possible breathtakingly beautiful, scalable and versatile video walls. Prysm display solutions serve major brands worldwide including leaders in technology, retail, financial services and media as well as governments and universities. Prysm has a global sales and support network with offices in Boston, Chicago, Indianapolis, New York, San Jose, London, Bangalore, Dubai and Beijing. Learn more at prysm.com.